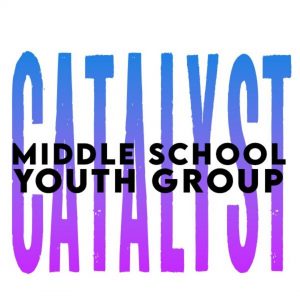 Catalyst is our middle school community at Holy Spirit, open to students in grades 6th – 8th. Middle school can be challenging. Our goal is to encourage them in their faith through relevant teaching, prayer and small group discussion. Special events, service opportunities and camps also help them build convictions and friendships.
Catalyst Nights are weekly on Sunday evenings during the school year. This year, we will be meeting for brunch after 10:30 Mass on the last Sunday of the month instead of in the evening on that day. Our first Catalyst will be Sunday, September 25 for brunch.
Registration for 2022-2023 is open!
We also schedule Catalyst events throughout the year. These fun opportunities build a sense of community and encourage friendships. A complete calendar with dates of all meetings and activities will be available in September.