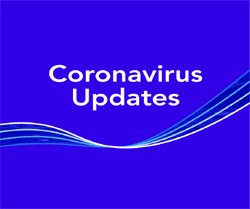 Weekend masses are Saturday, 5:00 PM, and Sunday, 8:30 and 10:30 AM. Weekday masses (during Lent) are Monday, 8:00 AM, Tuesday, 5:30 PM, Wednesday, 8:00 AM, Thursday, 5:30 PM, and Friday, 8:00 AM.
We have been approved for Jackson County's newly required "Gathering Protocol." This allows us to continue to have masses the way we're currently doing them, and will also allow us to have additional parishioners for Christmas masses.
The Jackson County Health Department amended the mask order to reflect changes regarding persons with exemptions.  Exemptions include:
Those who are deaf or hard of hearing
Children younger than five years old; and

Children who are younger than two years old should never wear face coverings due to the risk of suffocation.
Children who are two, three, or four years old, with the assistance and close supervision of an adult, are strongly recommended to wear a face covering at all times in settings, like grocery stores or pharmacies, where it is likely that a distance of at least six feet cannot be maintained from non-household members and vulnerable people must go.

Persons with a medical condition, mental health condition, or disability that prevents wearing a face covering. This includes, but is not limited to, persons with a medical condition for whom wearing a face covering could obstruct breathing or otherwise unable to remove a face covering without assistance. 
Weekend mass attendance is by signup only at this time. Click here to sign up. Weekday masses are open to the public Monday, Wednesday and Friday at 8:00 AM. No signup is required.  Weekday masses are being held in the main church instead of the chapel.
The Bishop has extended the dispensation from the requirement to attend Sunday masses indefinitely, so if you are sick or feel uncomfortable coming to church, you are encouraged to stay home and watch Mass online.
We are live streaming masses on our Youtube Channel. Please hit the "subscribe" button to be notified when we go live.
For the most up-to-date announcements, join our email list, by clicking here.
Some reminders for coming to mass:
Attendance at weekend masses is by signup only.
Everyone must wear a mask. You are asked to wear them the entire time you are here.
Bathrooms and water fountains will not be available.
Be on time. Plan to arrive early. Doors will be opened 30 minutes before mass begins.
Entry into church will be at the front doors.
Keep social distancing (6 feet distance).
Ushers will show you to your pew. You may not be seated in your "usual" spot. Go with it. It may give you a new perspective on the mass.
When it is time for communion ushers will guide you, helping you maintain social distancing. You are asked to receive communion in your hand. After you receive go to the spot marked on the floor with tape. Remove your mask. Take communion. Put your mask on and go back to your pew.
Do not leave early. Ushers will dismiss you when mass is over. Wait for the ushers to dismiss you. Go directly to your car.