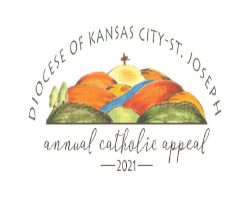 On the weekend of October 10-11, we begin the 2021 Annual Catholic Appeal, ("ACA") and
our Parish Appeal. The Diocesan appeal is an opportunity to give a gift which assists our 88 parishes, 10 missions, and other institutions throughout our Diocese of Kansas City-St. Joseph, which covers 27 counties in Northern and Western Missouri. While the Diocesan goal of $1,800,000 is very important, the ACA and Parish Appeal are an annual opportunity to join together in a united way to carry out God's mission—to do more good than one person or one parish can do alone.
These brochures explain how supporting these two Appeals helps provide programs, services, and
ministries that are so important to grow our lives in faith, and to accompany others into a life in Jesus
Christ. The Diocesan 2021 theme, "One Family…Walking Together in Faith," is a continuation of the Mutually Shared Vision; One Family: Restored in Christ, Equipped for Mission, as we work together to
bring us and those we serve closer to Christ.
Therefore, with grateful hearts, we personally ask you to join us by making a gift or pledge
to the ACA and Holy Spirit Parish. Two pledge cards are available here – one for the
diocese and one for the parish. You may return your parish pledge card by mail, put in the collection
basket on October 10th or 11th, or mail in your pledge card.
The Diocesan ACA pledge card may be returned by mail or you can give online. If you choose
to give to the ACA online click here. We also invite you to watch this year's ACA video.
As you reflect on how you can help the diocese, please also consider becoming a first-time
member of the St. Joseph's Guardian Circle by subscribing a gift of $1,000 or greater, or a gift equal to
1% of your gross annual income.
Regardless of the amount, we humbly ask you to participate as you are able.
God has given us many blessings. Let us join together as one family and walk together in faith
through acts of love as disciples of Our Lord. With the assurance of our prayers, we are,
Gratefully yours in Christ,
Most Rev. James V. Johnston, Jr.
Fr. Michael Clary